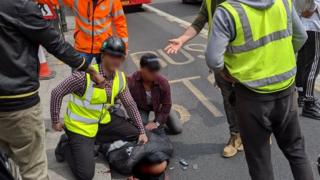 A man is in hospital after a knife attack on a busy London street.
A "Jewish man", believed to be in his 50s, was found suffering from stab wounds on Stoke Newington High Street, Hackney, at about 11.00 BST.
Members of the public restrained the suspected attacker who was also taken to hospital with minor head injuries.
The man, thought to be in his 40s, has been arrested on suspicion of attempted murder. Police are investigating whether the attack was a hate crime.
Construction site manager Lazar Friedlander and his brother Matt restrained the attacker after hearing a "serious scream".
Mr Friedlander said: "We ran outside, I saw a Jewish man covered in blood.
I'm Jewish myself, and I can see another Jewish man shouting 'hold him, catch him, he's got a knife! Stabbing!'
"There were a couple of other people trying to grab him.
"Me and my brother managed to force him down and put his hands behind his back until the police came."
Mr Friedlander said he tried to question the attacker who "just blanked me and wouldn't say anything".
boiler repairs swanscombe

Source link